Launch crp479 nieuw model universeel 1 jaar updates obd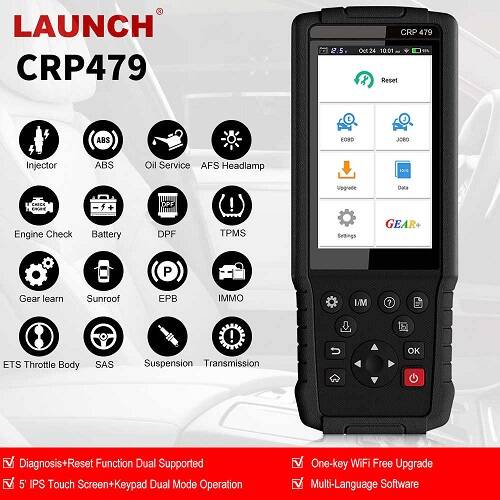 Gratis verzending binnen Nederland. Levering binnen Europa 3 a 6 werkdagen.
1 jaar gratis updates.
Dit betreft een zeer krachtige apparaat welke 16 systemen kan uitlezen en maar liefst 15 reset functies. Deze OBD2 apparaat kan de scanresultaten naar een printer sturen of per email doorsturen naar de klant.

Zie hieronder in het Engels de functies en specificaties.
15 Reset Functions:

1.EPB - Perform the service and maintenance of brake systems.
2.Oil Light - Reset the service lamps on the instrument cluster.
3.SAS - Perform calibration of Steering Angle Sensor (set the SAS angle to zero).
4.BMS - Optimizes the functionality of the battery and warns the imminent failures or damage.
5.ABS Brake Bleed - Exhaust the air in ABS system in an easy way to recover its sensitivity.
6.Throttle matching - to do ECU matching after throttle cleaning or replacement
7.TPMS - to quickly look up the sensor IDs from the vehicle's ECU, as well as to perform TPMS programming and reset procedures after tire sensor are replaced
8.DPF - Perform the DPF (diesel particulate filter) cleaning.
9.AFS Reset - to automatically turn on the headlight according to ambient light intensity,monitors driving speed and body posture,and adjusts the headlight lighting angle.
10.Gear learn - Perform gear learning for the car when the engine ECU, the crankshaft position sensor, or the crankshaft flywheel is replaced;
11.Gearbox Reset - Procedure Reset Transmission Adaptive Learning DIY.
12.IMMO - Clear the lost car key's information and program the new key into the ECU database
13.Injector Coding - Program the new injector numbers into the ECU to achieve the optimum in lowering emissions and provide smooth running.
14.Sunproof - The sunroof memory generally needs to be reset when battery is replaced or the car dies
15.Suspension - Recalibrate the air suspension

1. Specification:

OS: Android 7.0
Screen: 5" IPS touch screen
RAM: 1GB
ROM: 8GB
Processor: A5 Quad Processor
Battery: 4000mAh Rechargeable Li-Battery
Dimension: 9.79*3.68*1.42inch
Keypad: On/Off button, Screenshot button, Diagnostic Report button,I/M button...


2.OBDII/EOBD Diagnosis:

10 modes of OBD II test are supported, including EVAP, O2 Sensor, I/M Readiness, MIL Status, VIN info, and On-board monitors testing etc.

3.Reset: Frequently used maintenance and reset items including Oil Lamp Reset, Brake Pad Reset, TPMS Reset, Battery Matching, Injector Programming, Throttle Adaption, DPF Reset, Gear Learning, Steering Angle Reset, ABS Brake Bleeding, Anti-Theft Matching, Headlamp Matching, AT Matching, Sunroof Initialization and Suspension Matching can be done.

4.Wide Coverage: Multiple car models (covering over 50 prevailing models from Asia, America and Europe) Support.